1970 Mercedes Benz 280SL roadster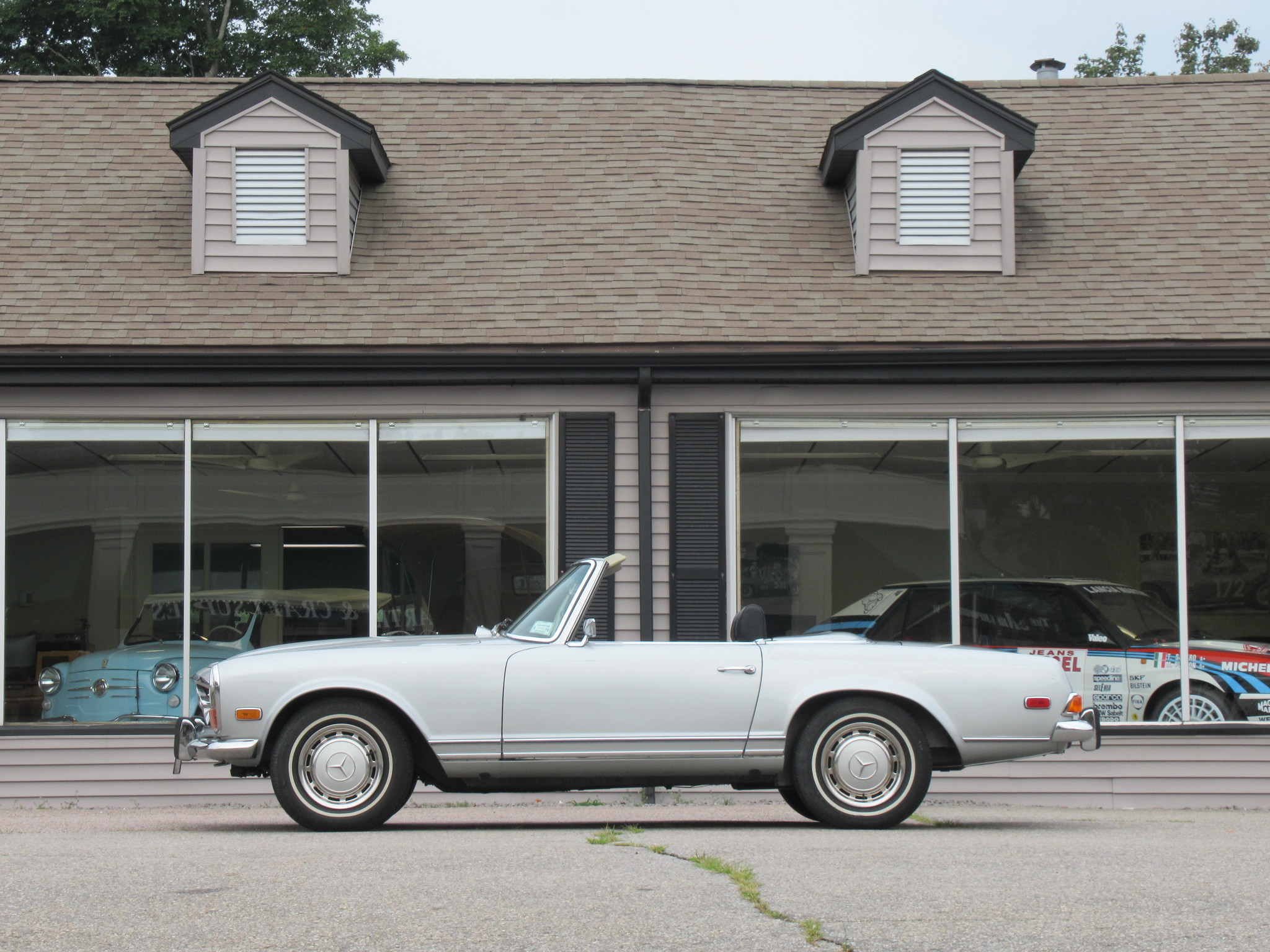 here's an interesting one…
like you, we want a top-tier example with no negative history or stories.  be it a vintage Ferrari, Mercedes Benz, Porsche or even a Land Rover Defender, top-tier afterall is the easiest to understand, own, and sell, whether today or one day down the road as your tastes may change.
the 280SL we are showing here was offered to us via telephone from an older gentleman at what was a seemingly market correct price.  the old-timer however was not technically able to supply us with the additional photos necessary to assist with our evaluation.  so we arranged for our transporter to go and collect the roadster and get it to our showroom for the evaluation.  the 280SL arrived and we were quite pleased with its appearance as it was coming off the truck.  the paint, body lines and chrome all gave a very nice appearance.  within minutes of being on the ground though, it was quickly apparent that this was not the example we thought or hoped we were getting.  first and foremost, both front fenders were not original and had been replaced.  this is not unusual for a 280SL as they are prone to rust and replaced with great regularity.  for us though, replaced front fenders is a bugaboo which (now nearly) eliminates a 280SL from consideration.  during our further inspection we found the most detailed work order file covering the past decade plus.  while it would have been handy to have known in advance, the file outlined the front fender replacement and other rust repair, the repainting and interior re-trim, wood refinishment, as well as the terrific comprehensive servicing and sorting to all of the mechanical systems, with the file's tally nearing $120,000.00.  with the roadster here and in front of us and looking quite good, we decided to evaluate it further with a road test.  all performed exactly as it should and without fault.  the roadster started instantly, the transmission shifts smoothly, there were no untoward noises from the body or suspension, and the drive solid and true.  looking and driving great, now what to do, as the six-figure price was wildly incorrect.  after thoughtful discussions with our old-timer, and much pondering on his part too, he ultimately decided to dramatically adjust his price appropriately, which now allows us to offer this "nice, driver quality" 280SL roadster at what we feel is now the market correct price of $78,800.  with top-tier examples ranging in price from $135,000 to $250,000 and more, even with the history, this DB180 Silver roadster makes for good value.
1970 Mercedes Benz 280SL roadster, S/N 11304412013676, DB180 Silver with black interior and MB Tex seat upholstery, black convertible soft top, factory removable hard top, 2.8 litre in-line 6 cylinder engine, 4 speed floor shift automatic transmission, Becker Europa radio, disc brakes at all 4 corners, built in September 1969, complete with owner's manuals and pouch, tool roll and jack, a nice, driver quality example in original colors of the iconic 113 chassis Pagoda.