1972 Ferrari 246 Dino GTS Spyder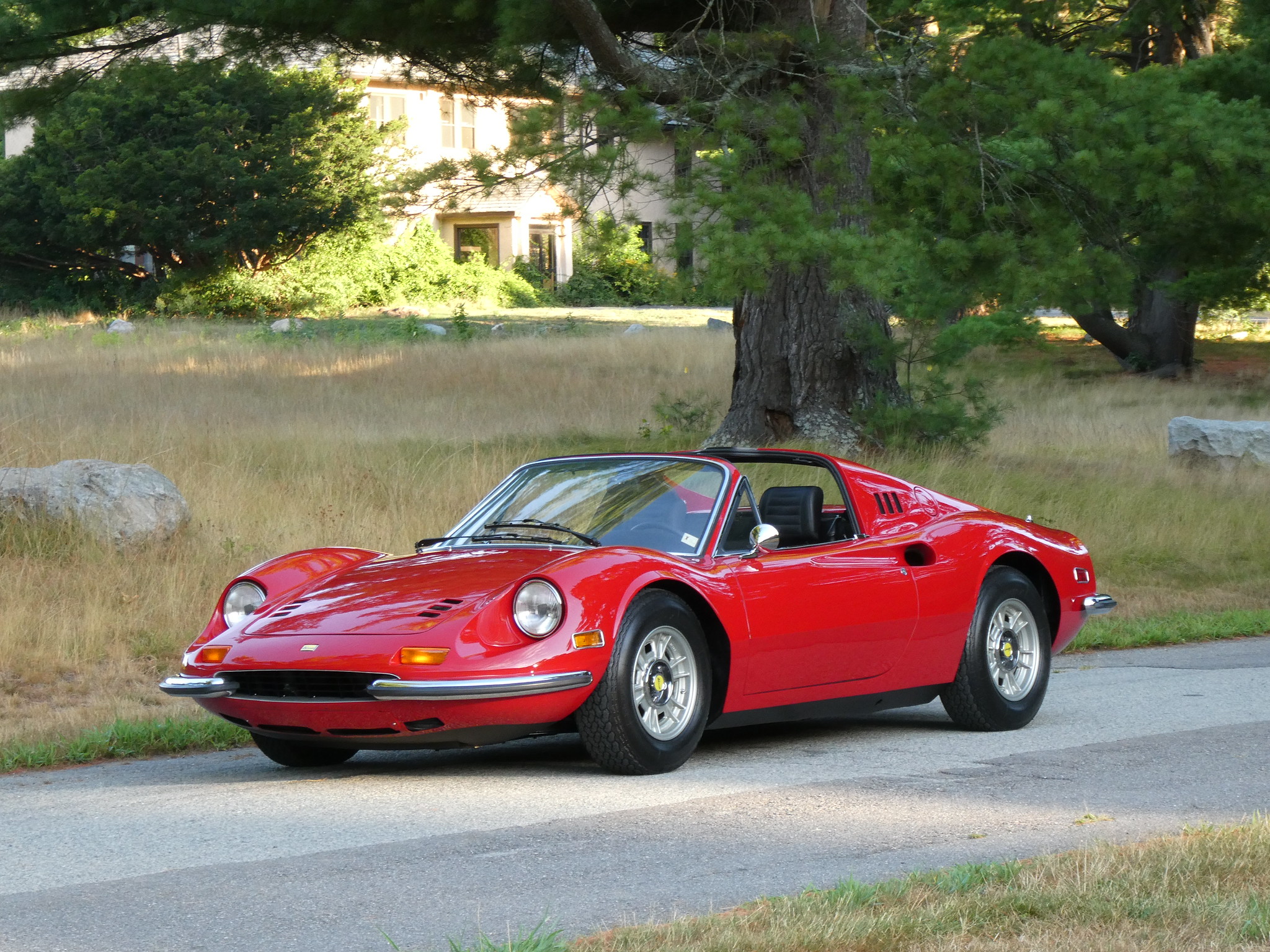 1972 Ferrari 246 Dino GTS Spyder
Rosso Chiaro with nera
Classiche Certified
matching numbers
specialist refurbished
manuals and tools
original colors
USA example
1972 Ferrari 246 Dino GTS Spyder, Serial Number 04008, USA example, Rosso Chiaro with nera, 2.4 litre V6 engine mid-mounted, 5 speed gated transmission, disc brakes, original Dino 14 inch Cromodora alloy wheels, air conditioning, manual windows, Becker Mexico radio and removable Spyder targa top.   The alluring lines of the Dino were penned  at Carrozzeria Pininfarina by lead designer Aldo Brovarone, whose design credits also include the 375 MM Berlinetta for Gianni Agnelli, 400 Superamerica Aerodinamico, 250 LM, and even the 365 GT 2+2.  The Dino itself so named for Enzo's late son whose successful V6 engine design for Formula 1 in the 1950s would prove to be more economical to build than the traditional Ferrari V12.
Our Spyder 04008 was delivered new to Daniel S. Briggs of Los Angeles, thru USA West Coast distributor, William Harrah's Modern Classic Motors, and has had only four owners in total throughout the past 50 years.  The fourth and most recent owner, a longtime Ferrari collector, would purchase 04008 in 2005 and and within a few years would commission a bare metal repainting and interior re-trim in original colors, and would follow up several years later extensive restorative work tallying some $200,000.00 with marque specialist, Motion Products, Inc. of Neenah, Wisconsin.  Our Dino is completely matching numbers throughout and is Ferrari Factory Red Book Classiche Certified.  It is equipped from new with manual windows and air conditioning, Cromodora 15 inch alloy wheels, and has a proper period Becker Mexico radio fitted, along with thetarga top storage sheath being present and the retractable sun visors present and fully functional.
Accompanying the Dino are a plethora of original and significant sundry items including:  owner's manual and USA supplement, warranty booklet, consumer information and servizio center location booklets, manuals leather wallet, complete tool roll, jack and pouch, wheel chock, bulb and fuse spares container, Motion Products, Inc restoration work orders, Modern Classic Motors showroom brochure, copies of sale agreements and registrations and, the Classiche Red Book and Certificate.
Dino GTS Spyder Serial Number 04008 is for sure collector grade and simply exceptional in all respects.